This sweet and spiced apple bread recipe is simple to make. It's filled with juicy apple pieces and topped with a cinnamon glaze.
Apple and cinnamon go together so well, so combining them In an apple cinnamon loaf is natural. An apple bread recipe like this is also called an apple quick bread and the method is definitely that!
The batter can be whisked together in less than 10 minutes!
Apple Bread - The Details
Quick bread - This apple bread loaf is super quick to put together but requires a fair bit of baking time. The restricted size of the baking tin means it takes longer to cook the middle of the loaf. Though it is known as apple quick bread, it is much more an apple cake in texture, sweetness, and taste.
Oil - there is no butter in this recipe! Despite being a major butter fan, this apple bread is much better with oil. The oil keeps it moist and there is plenty of flavor from the apples and spices that you won't miss the butter.
Milk - Milk helps combine and loosen the batter. I use a full-fat cow milk but this can substituted with a dairy-free milk of your choice.
Apples - The variety of apple you choose for your apple bread depends on taste. If you like a tarter bite, choose a Granny Smith. For a sweeter touch, a gala apple works well. Ultimately though you can can use whatever variety you've got.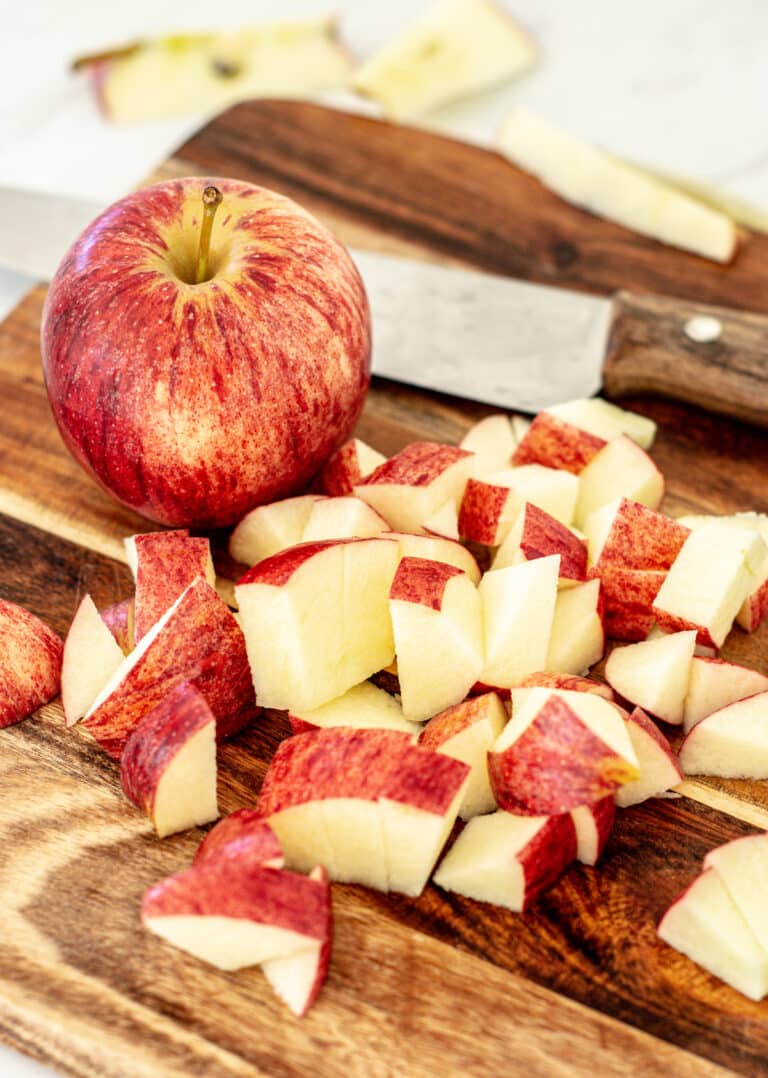 The Method
Since there is no butter to cream in this recipe, there is no need for any electric mixer or whisk. You just need two bowls and a wooden spoon!
First, the dry ingredients are mixed together in one bowl and set aside. Second, the wet ingredients (except for the milk) are mixed together in a separate bowl. Then, the dry is added to the wet, along with milk, and folded together gently.
Technically this whole apple loaf could be made in one bowl, but it is best to split the dry ingredients into a separate bowl from the wet ingredients first so you can guarantee the ingredients are dispersed properly before being mixed together.
Adding the flour, spices, and baking soda together first means you can stir it all well so there are no clumps of unmixed baking soda in there. If the dry ingredients are dumped into the wet ingredients separately, there will be a fair bit of mixing needed to combine and disperse it all and you can wind up with an over-mixed and dense loaf.
The Cinnamon Glaze
The cinnamon glaze is simply confectioners sugar, ground cinnamon and a little milk to bind it. Drizzle it lavishly over the apple bread and watch it drip down, seep through the cracks and create a beautiful shell over the loaf.
Related recipes
Full Recipe
Easy Apple Bread with Cinnamon Glaze
A sweetly spiced loaf with juicy apple pieces and cinnamon glaze
Ingredients
1 ½ cups diced apple (cut into about ½ inch cubes)
60ml (¼ cup) vegetable oil
50 grams (¼ cup) soft brown sugar
70 grams (⅓ cup) white sugar
1 large egg
1 teaspoon vanilla extract
1 teaspoon ground cinnamon
½ teaspoon ground nutmeg
¼ teaspoon salt
1 teaspoon baking soda
210 grams (1 ¾ size cups*) all-purpose flour
120 ml (½ cup) milk
Cinnamon Glaze
120 grams (1 cup) confectioners sugar
¼ - ½ teaspoon ground cinnamon
1-2 tablespoon milk
Instructions
Preheat your oven to 365°F, 180°C fan-bake, and line an 8 ½ x 4 ½ inch (21x11cm) loaf tin.
In a bowl sift together the spices, salt, baking soda and flour. In another bowl mix together the oil, the sugars, vanilla and the egg. Stir in the chopped apple pieces.
Add the flour mixture to the oil mixture, along with the milk. Fold it all together but don't over mix it. It will be a thick batter.
Spoon into the lined loaf tray and bake for 50-60 minutes until a skewer inserted into the middle of the loaf comes out clean. Lift the loaf out of the tray and allow to cool for 20 minutes.
Mix together the icing sugar and cinnamon, and just enough milk to create a smooth and pourable paste. Drizzle the glaze over the loaf.
Notes
*cup sizes are in US size cups which are smaller than metric cups. For best and consistent results use scales to measure in grams.
Nutrition Information:
Yield:

10
Serving Size:

1
Amount Per Serving:
Calories:

280
Total Fat:

12g
Saturated Fat:

1g
Trans Fat:

0g
Unsaturated Fat:

10g
Cholesterol:

20mg
Sodium:

148mg
Carbohydrates:

40g
Fiber:

1g
Sugar:

22g
Protein:

3g
This data was provided and calculated by Nutritionix