Making your own homemade pumpkin spice mix is super easy and it brings the best warming flavor to pumpkin dishes.
Pumpkin pie spice is the magic combination of individual spices that makes pumpkin desserts taste so darn good. Making your own spice blends is a lot cheaper than buying a pre-made mix from the grocery store too!
A jar of pumpkin pie spice is exactly what you need when it's pumpkin season. You can easily double or triple the recipe for a large batch, or halve it for smaller batches.
The spices
The spices in this homemade pumpkin pie spice mix are common spices that when put together are just so delicious and give layers of flavor. It's such a versatile spice blend. You will find:
Cinnamon. - Sweet, woody ground cinnamon is the base. It's the main underlying flavor in this pumpkin pie spice recipe.
Ground ginger. - Slightly spicy and warming, ground ginger is the next main spice.
Nutmeg. Aromatic and slightly nutty, ground nutmeg brings another flavor to the spice mix.
Allspice. - Despite sounding like it might be a mixture of spices, allspice is actually a berry. It's named allspice because allspice berries have a multidimensional flavor profile. It takes on hints of cinnamon, nutmeg, and cloves.
Ground cloves. This is the strongest tasting spice of the lot. Only a small amount is needed, as a little goes a long way. It's a vital flavor for the all-rounded taste of the pumpkin pie spice blend. Ground cloves are sweet and pungent.
Whole spices or ground spices
It's easiest to use ground spices in this pumpkin spice blend unless you have a spice grinder that will get the spices into a fine enough powder.
Uses for pumpkin pie spice
Use your own pumpkin pie spice in your favorite pumpkin recipes such as:
A jar of homemade spice blend makes a great gift to give. Simple pop it in a cute jar, add a label and you're done! A pre-made blend is super useful in the kitchen and can be used in countless ways.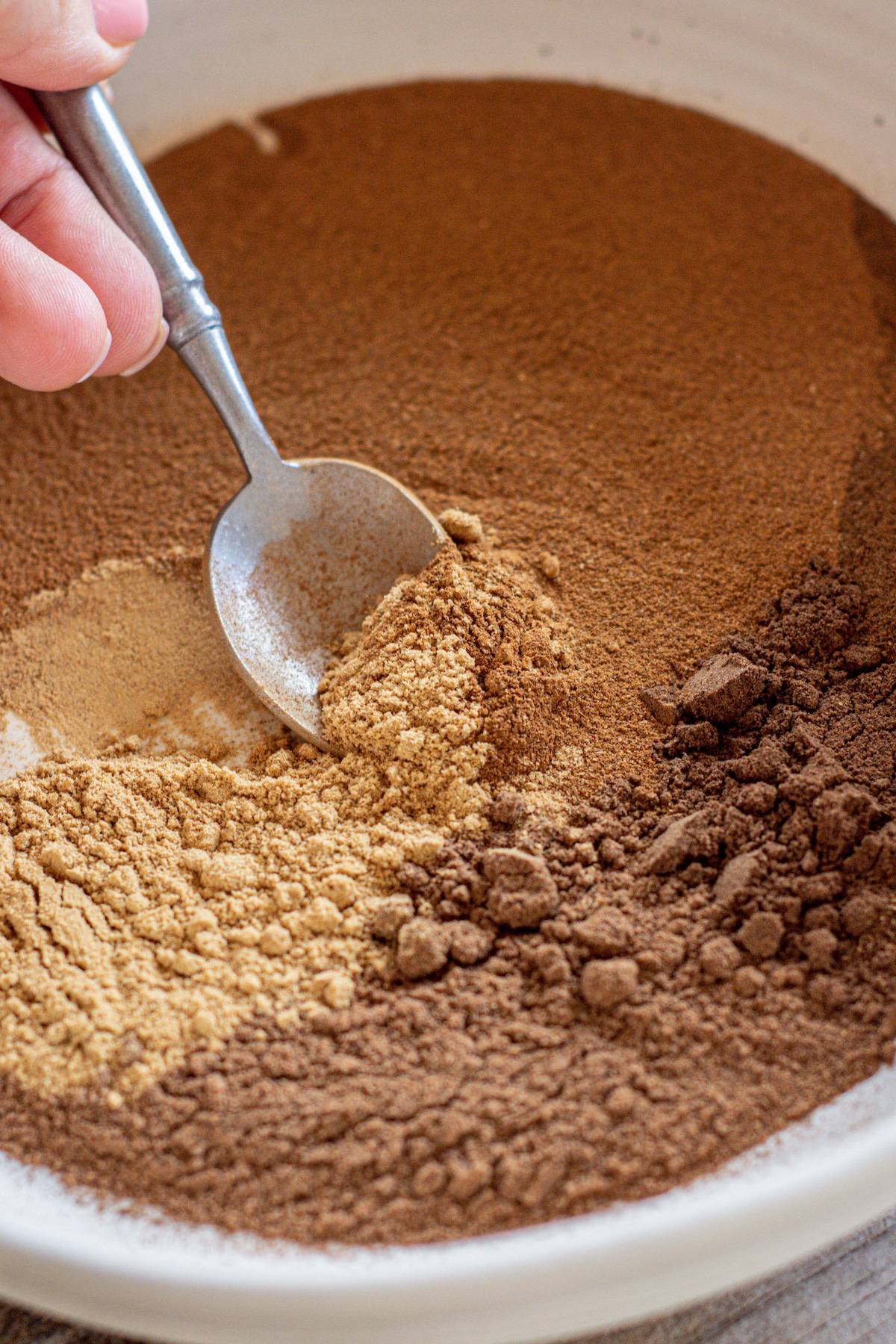 Customizing the spices
This is a classic blend. If you want to make your own blend, test out some other combinations! You can change the ratio of spices already in the mix or add others. You could try -
Black pepper to bring extra heat (or even chili powder if you like it hot!)
Ground cardamom for a floral touch
Powdered turmeric can amazing color as well as a boost of antioxidants.
Storing
Store your spice blend in a jar or other airtight container at room temperature. Dried ground spices can last a really long time as long as no moisture gets into the jar.
Use it for pumpkin sticky buns, pumpkin pie, and pumpkin spice donuts!
Full Recipe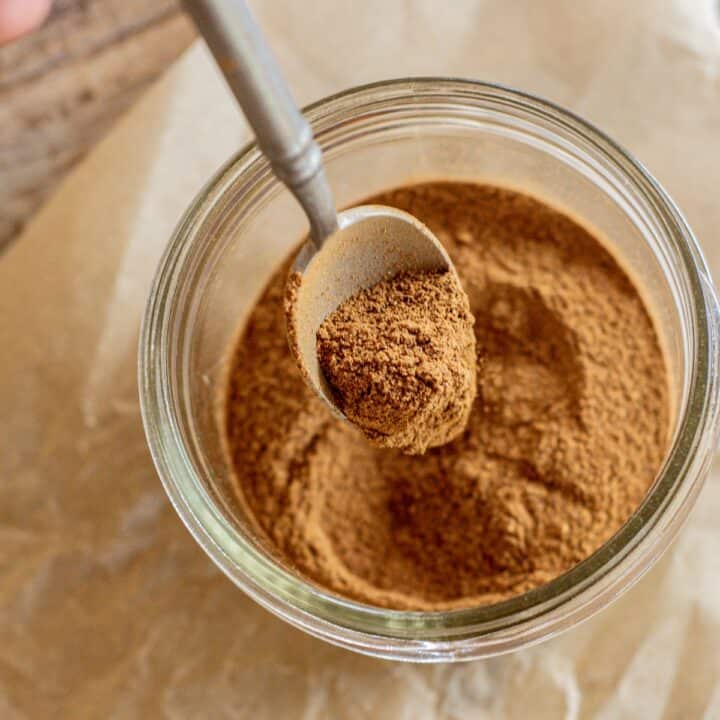 Homemade Pumpkin Spice Mix
Making your own pumpkin spice is super easy and it brings the best warming flavor to pumpkin dishes.
Ingredients
2 ½ Tablespoons ground cinnamon
2 teaspoons ground ginger
1 ½ teaspoons ground nutmeg
1 teaspoon allspice
1 teaspoon ground cloves
Instructions
Combine all the spices and mix them together.
Pour into a clean jar.
Seal airtight and store at room temperature out of direct sunlight.
Nutrition Information:
Yield:

30
Serving Size:

1
Amount Per Serving:
Calories:

3
Total Fat:

0g
Saturated Fat:

0g
Trans Fat:

0g
Unsaturated Fat:

0g
Cholesterol:

0mg
Sodium:

0mg
Carbohydrates:

1g
Fiber:

0g
Sugar:

0g
Protein:

0g
This is an informational estimate only. I am not a certified Dietitian or Nutritionist