These crinkle top brownies are easy to make from scratch.
Everyone needs a good homemade brownie recipe up their sleeve. Rich and decadent, homemade chewy chocolate brownies from scratch are the best. You'll never buy a box mix again!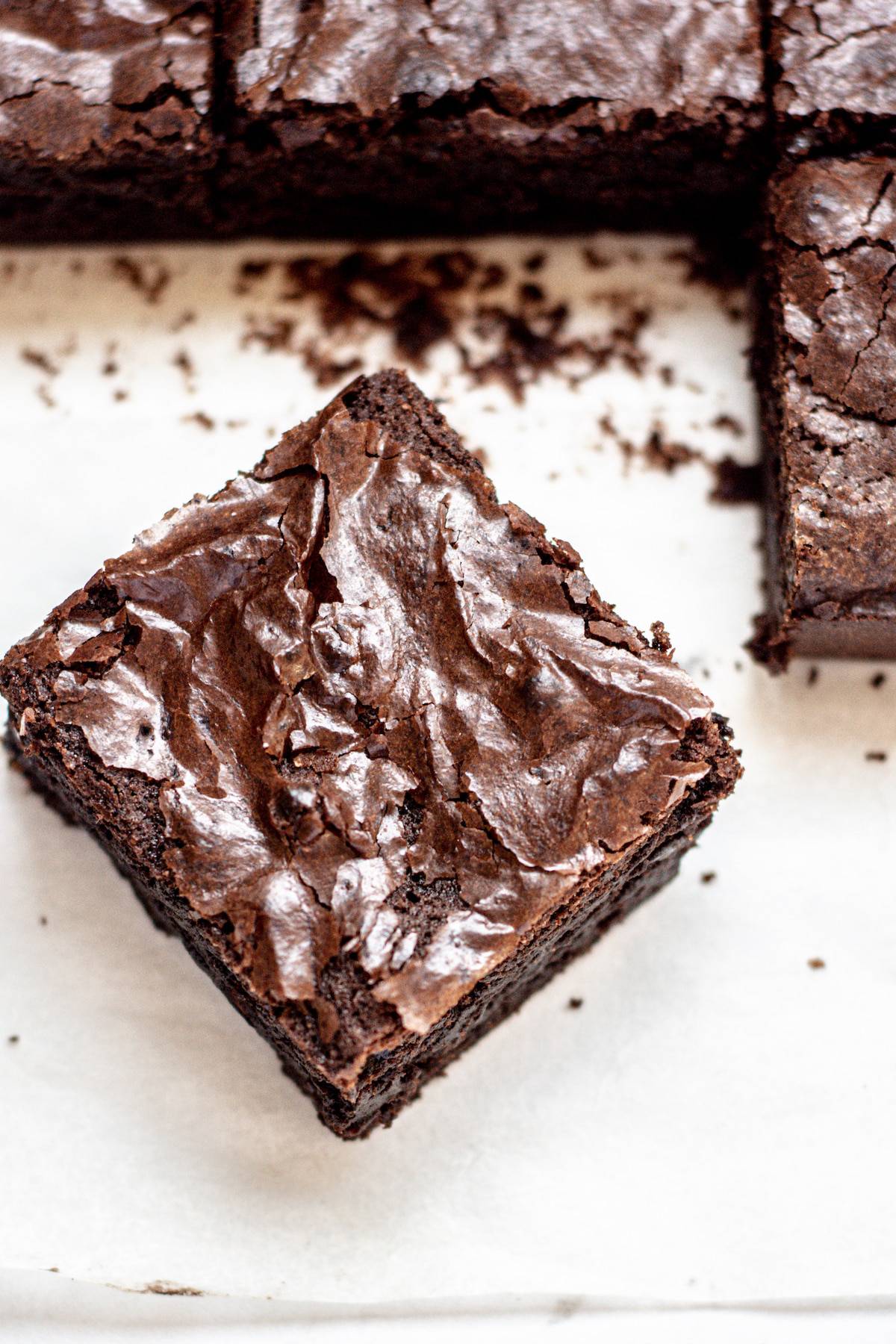 Jump to:
What makes a good brownie
The best brownies are dense with a rich chocolate taste. They have a great fudgy middle and perfect crinkle tops.
These fudgy brownies need 9 ingredients, 10 if you want to add chocolate chips. They're very chocolatey, with rich flavor. We are doubling up on chocolate flavor with both semi-sweet or dark chocolate and cocoa powder.
The combination of melted chocolate along with cocoa brings extra moisture and fat to this classic brownie recipe and increases flavor tenfold.
You could make brown butter brownies, orange chocolate brownies or triple chocolate brownies to make them even better!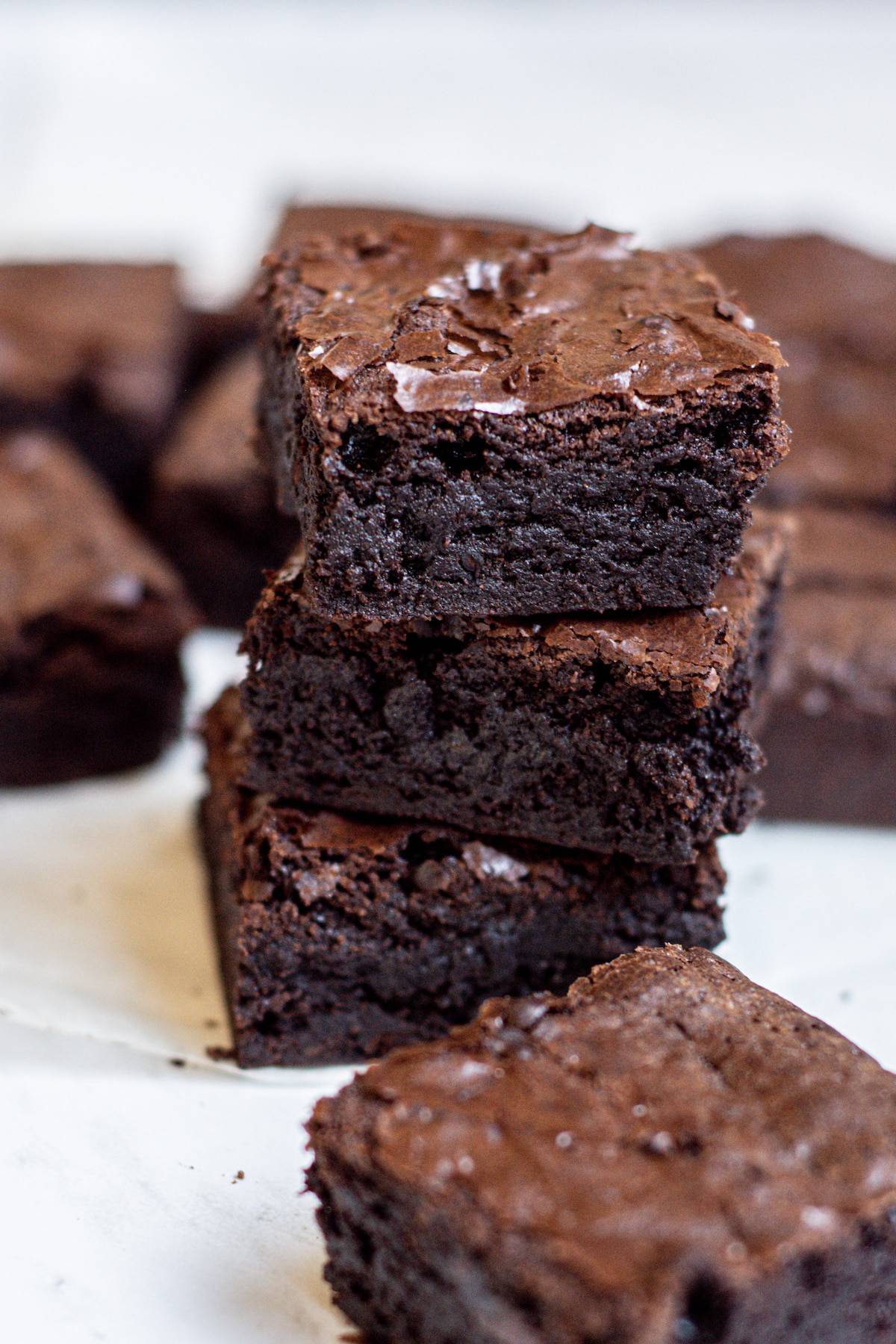 Are there raising agents in brownies?
There is no raising agent added to these fudgy chocolate brownies. Some brownie recipes, especially recipes outside of the US do use baking powder or self-rising flour, however, this recipe does not.
Removing rising agents from brownies keeps them chewy and fudgy and stops them from becoming like chocolate cake.
Crinkle top brownies
These brownies have beautiful crackly tops. The trick to this is melting the sugar in the batter. First, the butter and chocolate are melted, and then the sugar is mixed into this hot mixture while still warm.
This helps the sugar to rise to the top of the batter and form there, creating a perfect brownie shiny top.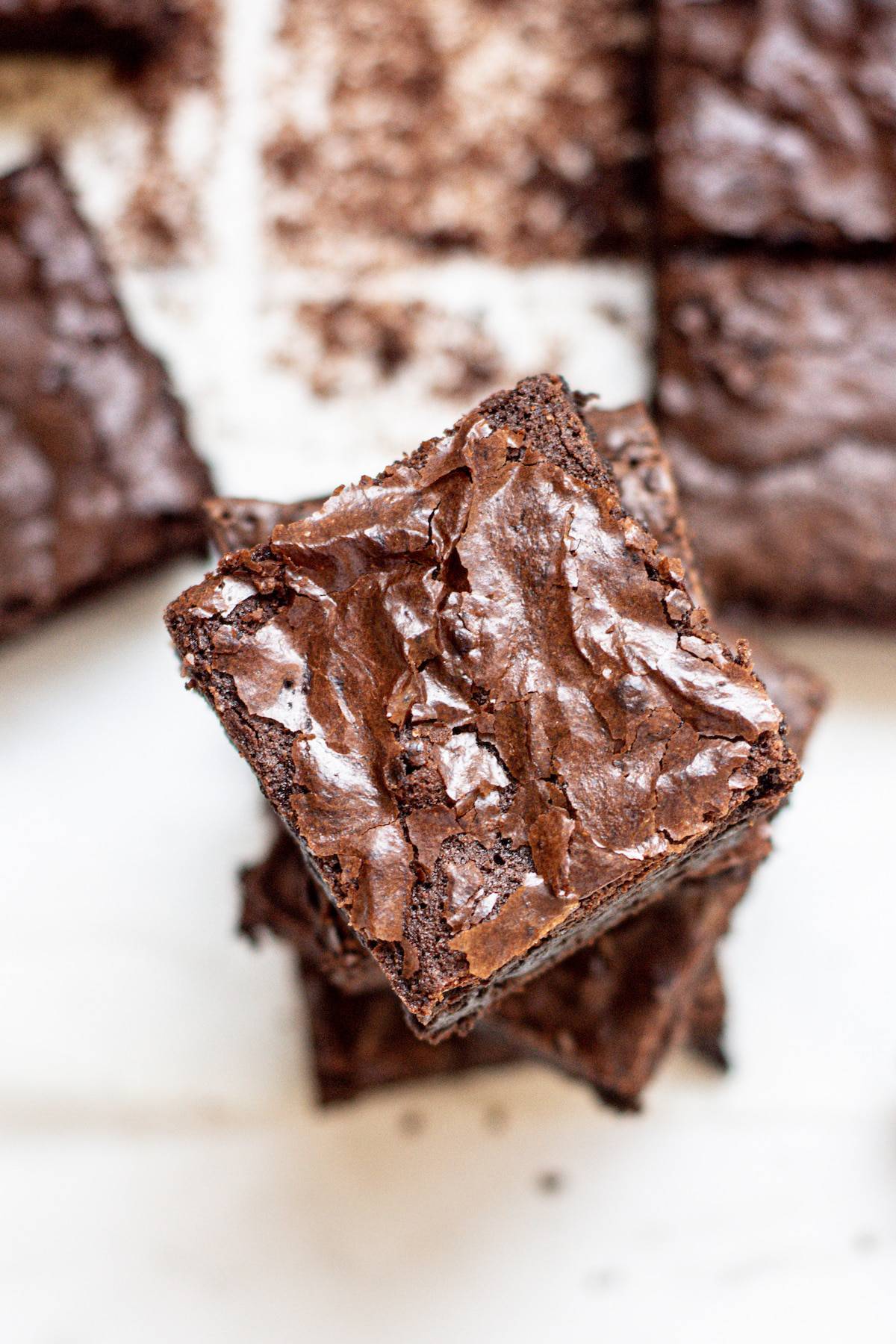 Equipment
You'll need an 8x8 inch pan for the brownies. I prefer a metal pan to bake these brownies. It cooks evenly and gives nice straight edges.
The Ingredients
Find the ingredient amounts in the recipe card at the bottom of this post.
Unsalted butter or salted butter- Melted butter adds fat, chewiness and so much taste to these brownies. The hot butter melts the sugar and helps create the shiny crinkle tops.
Semi-sweet chocolate - Choose good quality chocolate, one with cocoa butter (don't use compound chocolate which uses vegetable oils.)
Sugar - Both granulated white sugar and soft brown sugar is used - There's a large amount of sugar in brownies because this helps to create a fudgy texture and helps create a crinkle top. Sweetness is also needed to help with the richness of the chocolate. Soft brown sugar gives extra moisture to the fudge brownies.
Large eggs
Salt - Salt enhances the flavor.
Vanilla - Chocolate's best friend. Choose a good quality vanilla extract or vanilla paste.
Cocoa - provides extra chocolate flavor!
Flour - Only a small amount of all-purpose flour is used for some stability but not too much, so the brownie stays moist.
Optional - Chocolate chips. Adding extra chocolate chips or chocolate chunks to the batter gives you double chocolate brownies.
Can you make brownies with milk chocolate?
You can substitute dark chocolate to make milk chocolate brownies but it will change the brownie texture. Milk chocolate contains more sugar and fewer cocoa solids than dark chocolate.
They aren't going to be as rich and chocolatey, but if you've only got milk chocolate to use, then you can substitute. The addition of cocoa powder in the recipe will ensure it definitely still tastes like chocolate.
The method
The method for this crinkle-top brownie recipe is listed in the recipe card below too, but here is the step-by-step brownie batter process with photos.
Preheat an oven to 350°F (180°C) and line an 8x8 inch metal square pan or similar, with parchment paper.
In a saucepan or a microwavable bowl, melt butter and chocolate. Heat it on low heat and stir with a wooden spoon or rubber spatula until it's all melted and combined. Alternatively, place it in the microwave and melt it together in 20-second increments, stirring each time.
Once it's all melted, stir through the sugars while the mixture is still hot.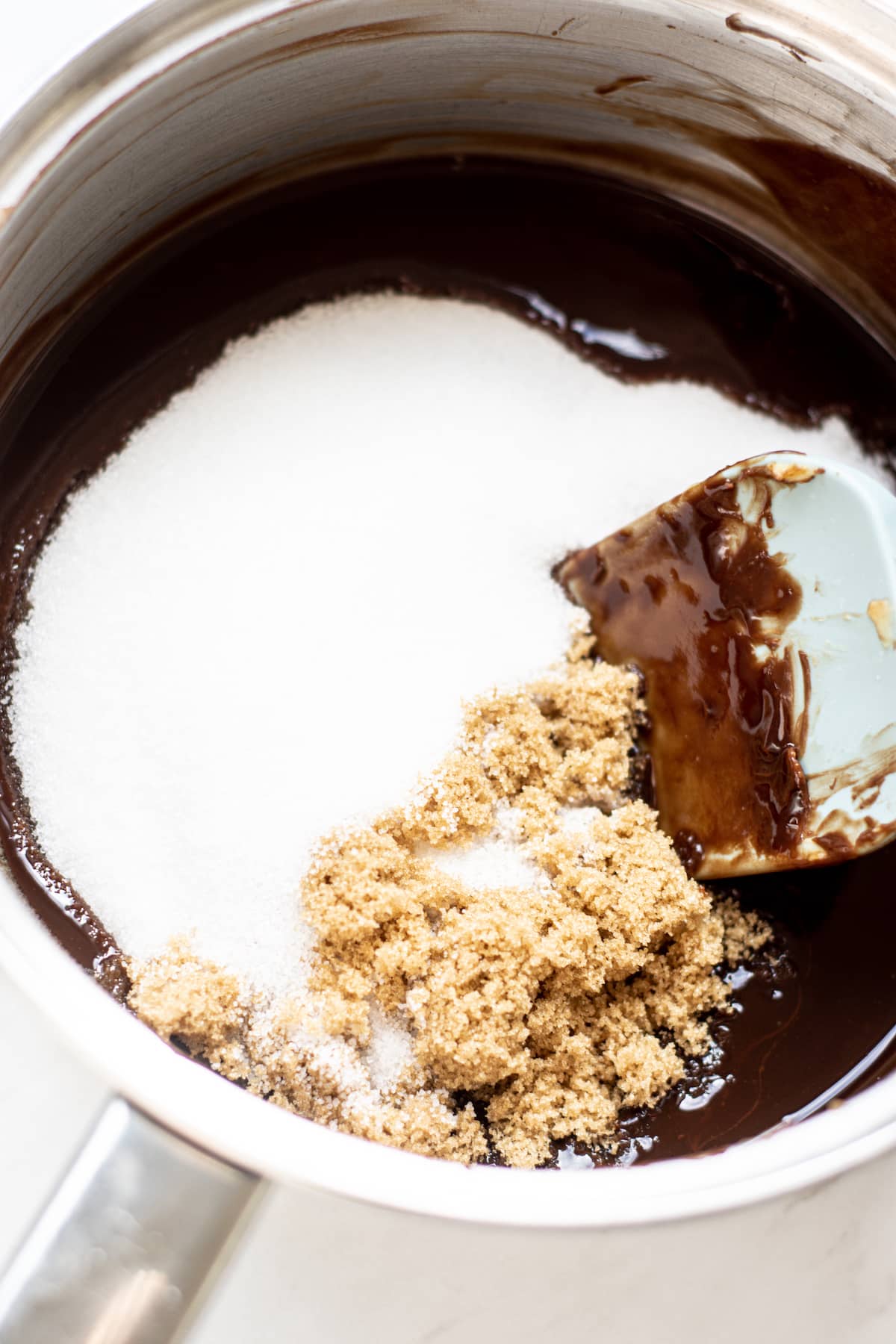 Crack the eggs into a separate small mixing bowl first to avoid getting shells into the chocolate mixture. Beat in the eggs, one at a time, until well combined, followed by the salt and vanilla extract.
Sift cocoa powder and flour into the chocolate mixture and whisk it well to combine it into a glossy chocolate batter. Pour the brownie batter into the prepared pan.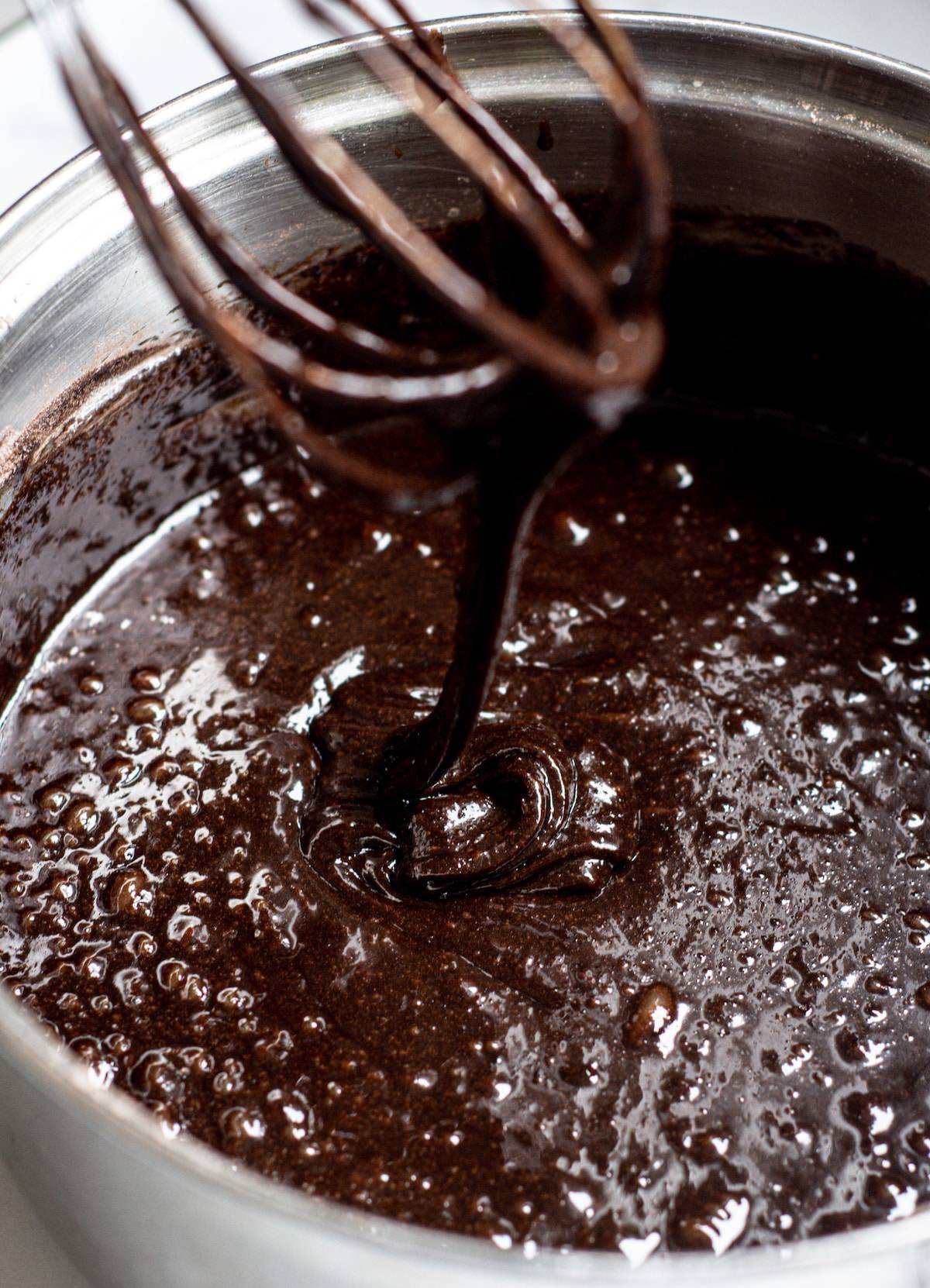 Bake the brownies for 28-32 minutes until a knife or skewer inserted into the pan comes out fairly clean with a few moist crumbs still sticking to it. There should be no wet batter left but the brownie should still be moist.
The baking time will depend on your oven or square baking pan used. Take care not to overcook them or the texture of the brownies won't be fudgy.
Leave the brownies in the pan to cool down completely on a wire rack before lifting and slicing them from the pan. Store any leftover brownies, at room temperature or in the fridge in an airtight container for up to a week.
Top tip - Leftover brownie pieces and be chopped and used in this black forest ice cream.
How to cut clean brownies
If you want super clean lines and perfect brownies when cutting, chill them first in the fridge. This will stiffen them up considerably and allow for easier cutting.
Can you freeze chocolate brownies?
Yes, brownies freeze very well! You can tightly wrap and freeze the whole slab of brownie, or portion it up first. Let it thaw at room temperature or overnight in the fridge.
If you like a warm brownie, pop it in the microwave for 15-20 seconds once thawed, to lightly heat it.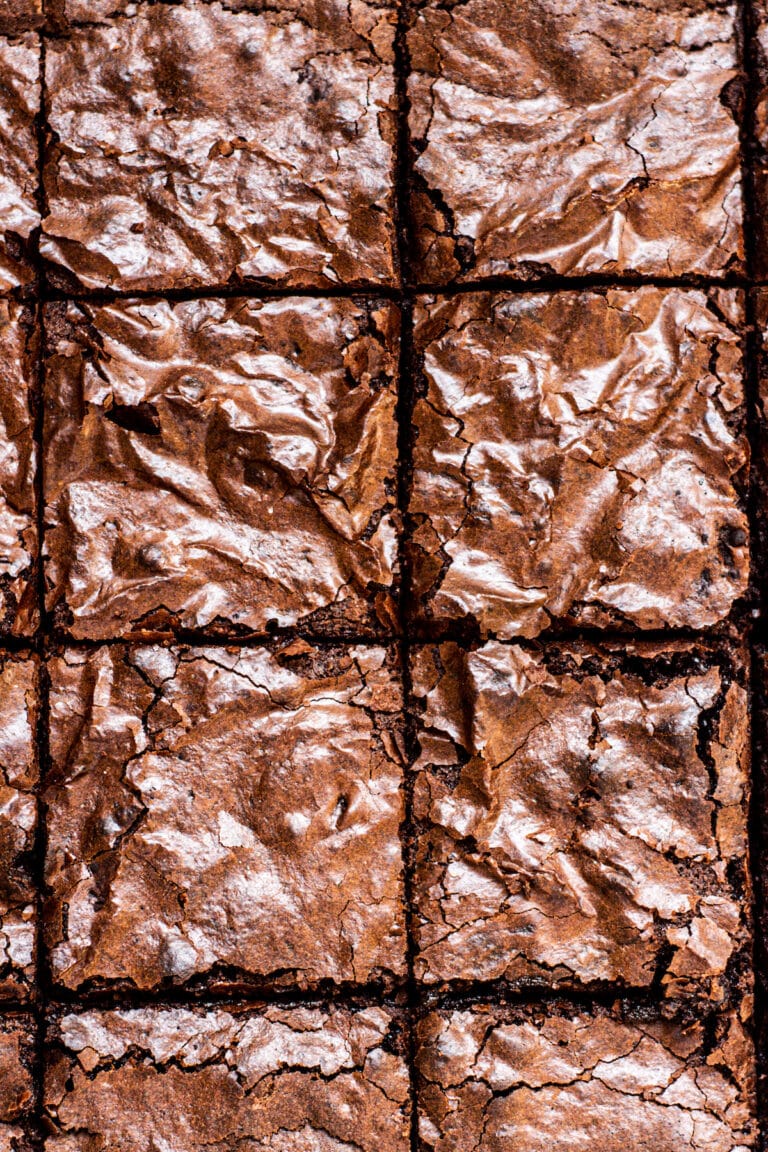 Icing chocolate brownies
This is entirely optional, but brownies can be iced too with brownie icing, to make them even more of a treat.
This recipe is written using grams as the main measurement.
If you don't have a scale US* cup equivalents are also included, however, using a kitchen scale to measure grams will give the best and most consistent results.*US cup sizes are smaller than metric cup sizes.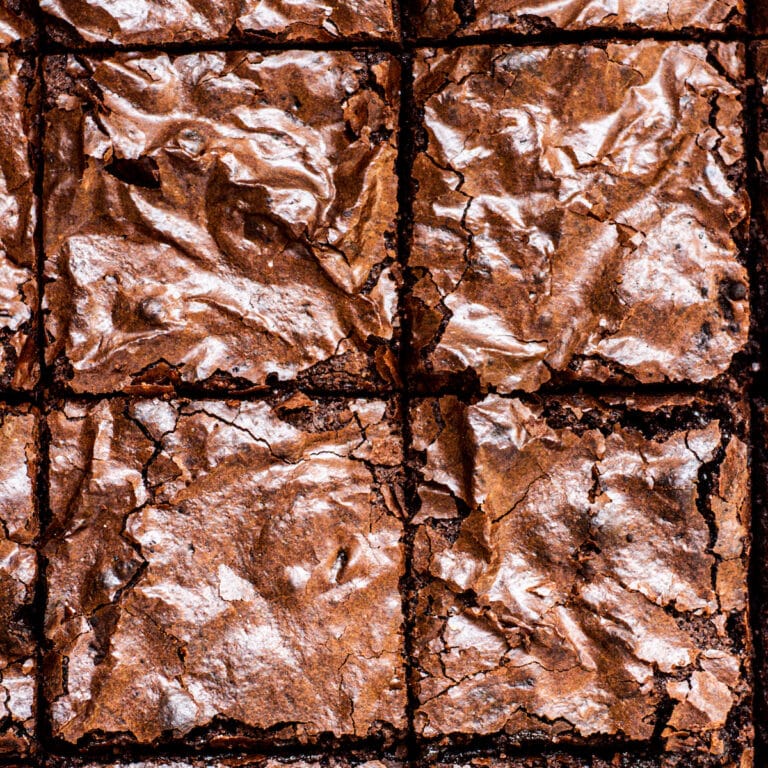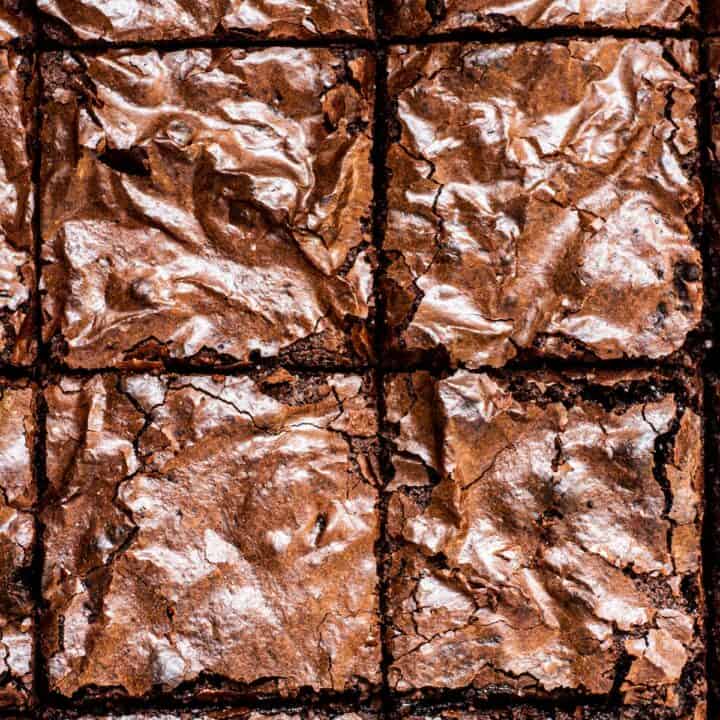 Crinkle top brownies
Thick, rich and super fudgy, these chewy chocolate brownies are so simple to make from scratch.
Ingredients
113g (½ cup) unsalted butter
85g (½ cup) good quality dark chocolate
150g (¾ cup) granulated sugar
50g (¼ cup, packed) soft brown sugar
1 teaspoon vanilla paste or extract
2 large eggs
30g (⅓ cup) cocoa powder
63g (½ cup) all-purpose flour
¼ teaspoon salt
Instructions
Preheat an oven to 350°F (180°C) and grease or line an 8x8 inch square pan with parchment paper.
In a saucepan, combine the butter and the chocolate and heat it on low-medium heat until it's all melted and combined. Take the pan off the heat, then stir through the sugars while it's still hot.
Beat in the eggs, one at a time, followed by the salt and vanilla extract.
Sift in the cocoa and the flour and stir it well to combine it into a glossy chocolate batter. Pour the batter into the prepared tin.
Bake the brownies for around 28-32 minutes until a knife inserted into the pan comes out fairly clean with a few moist crumbs sticking to it. No wet batter should be left, but the brownie should still be moist. Take care not to overcook the brownies.
Leave the brownies to cool down completely before lifting them from the pan and slicing them. Store any leftover brownies covered at room temperature for up to a week.
Notes
The cup sizes given are for US cups. Note that these are smaller than metric cup sizes. For best results, use grams.
Recommended Products
As an Amazon Associate and member of other affiliate programs, I earn from qualifying purchases.
Nutrition Information:
Yield:

16
Serving Size:

1
Amount Per Serving:
Calories:

245
Total Fat:

12g
Saturated Fat:

7g
Trans Fat:

0g
Unsaturated Fat:

4g
Cholesterol:

56mg
Sodium:

91mg
Carbohydrates:

34g
Fiber:

1g
Sugar:

26g
Protein:

3g