Sourdough starter not rising? Is something else going wrong? This post addresses common sourdough starter issues.
A sourdough starter is a collection of wild organisms. Therefore, it's never a black and white process that's the same for everyone. There are so many variables when it comes to creating a starter. Temperature, humidity, water, flour, and so forth.
The best thing you can do is observe your own starter. When you run into a problem you can tweak and test to find what works best for your starter. This post will run through some of the common issues of sourdough starters.
Jump to:
Creating a starter
If you don't have a sourdough starter yet, check out this sourdough starter feeding schedule guide. It will run you through the steps to make one.
Sourdough starter not rising
This is a common issue but also a really broad one. The first thing to establish is, how new is the starter.
If your starter is only a few days old then this is really common. It takes a long time for the yeast colony to establish itself in a new starter. Be patient.
However, do check that -
The environment isn't too cold. Keep it at a temperature between 70°F and 80°F (21°C and 26°C). The warmer end of the scale will be faster.
The environment isn't too hot. If it's hotter than 95°F/35°C the yeast will become dormant.
Your feeding ratios are correct. If you have fed your starter too much, or too soon after a previous feed it can slow things down too as it has more food to get through.
Water. Tap water can often be perfectly fine for sourdough starter but sometimes if there are high amounts of chlorine present it can affect the starter. Use filtered water, or let your tap water sit for 12 hours before using so the chlorine can dissipate.
Flour. Use un-bleached flour. If you're using bleached flour it can hinder the culture growth.
One more thing. Check that you aren't missing the rise. If it's rising overnight or while you're out, it may have collapsed. When you're feeding your starter, mix it in a bowl then add it to a clean jar. Tie a rubber band around the jar to where it reaches. If it rises and falls above the rubber band, you will be able to see marks on the jar.
Sourdough starter smells like alcohol
It is alcohol forming, which is why it smells that way. Yeast produces both carbon dioxide and ethanol as it ferments. Ethanol is alcohol.
This is a sign your yeasts have run out of food. Alcohol is always a byproduct of using yeast. However, if your starter smells of it then it's a sign there's a lot there. A starter smelling of alcohol (or sometimes acetone) usually has other signs of hunger too. It will be very runny and sometimes will form a layer of liquid on top.
This can be due to irregular or skipped feeds, starters with too much water, or a very warm environment. If it's very warm, the yeast will work quickly and can run out of food fast.
To fix this issue, pour off the liquid and feed your starter regularly. Ensure when feeding your starter that it's not too thin (using too much water).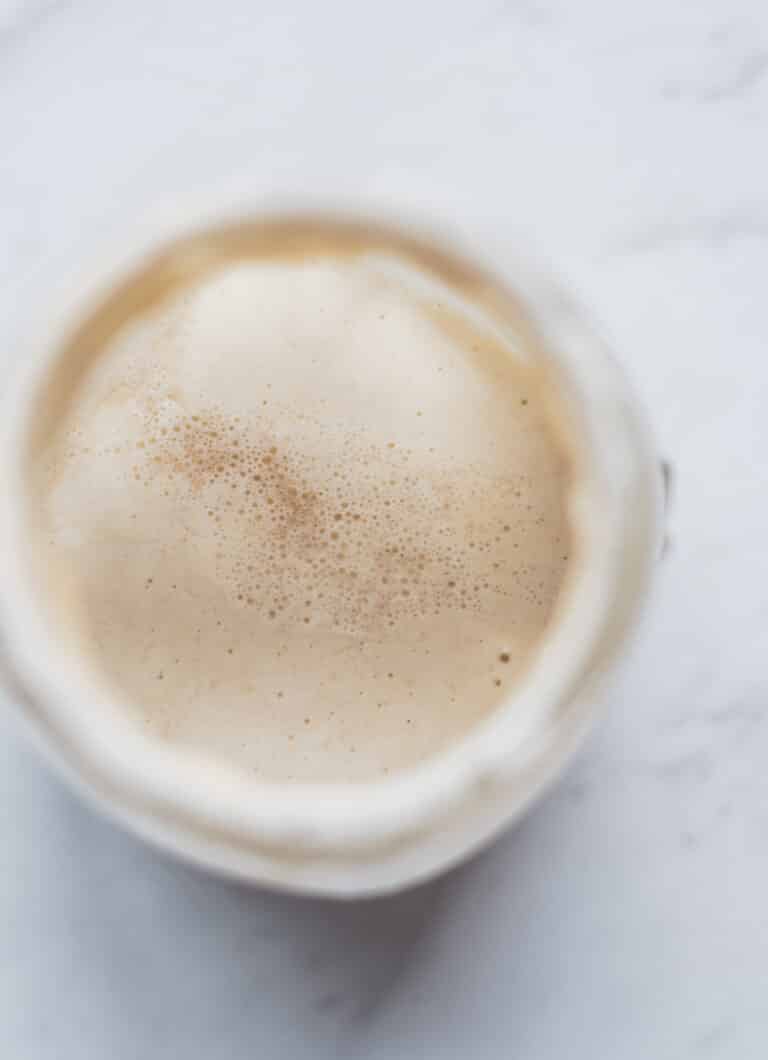 Sourdough starter how to feed
Sourdough starter hydration
A 100% hydration ratio is good. This uses equal weights of water and flour. If you're measuring in volume (say, a ¼ cup of water and a ¼ cup of flour,) your starter will be too thin. That's because there's a lot more water in weight in a cup than there is flour.
Instead use 1:1:1 or 1:2:2, starter:flour:water. For example, 1:1:1 could be 30g starter, 30g flour, and 30g water. 1:2:2 could be 15g starter, 30g flour, and 30g water. Both these ratios are 100% hydration.
Use a scale for best results.
If your environment is very warm you might need to feed your starter even more regularly. You can also increase the ratio of flour and water. For example, feeding it to 1:3:3 or 1:4:4 (starter:flour: water).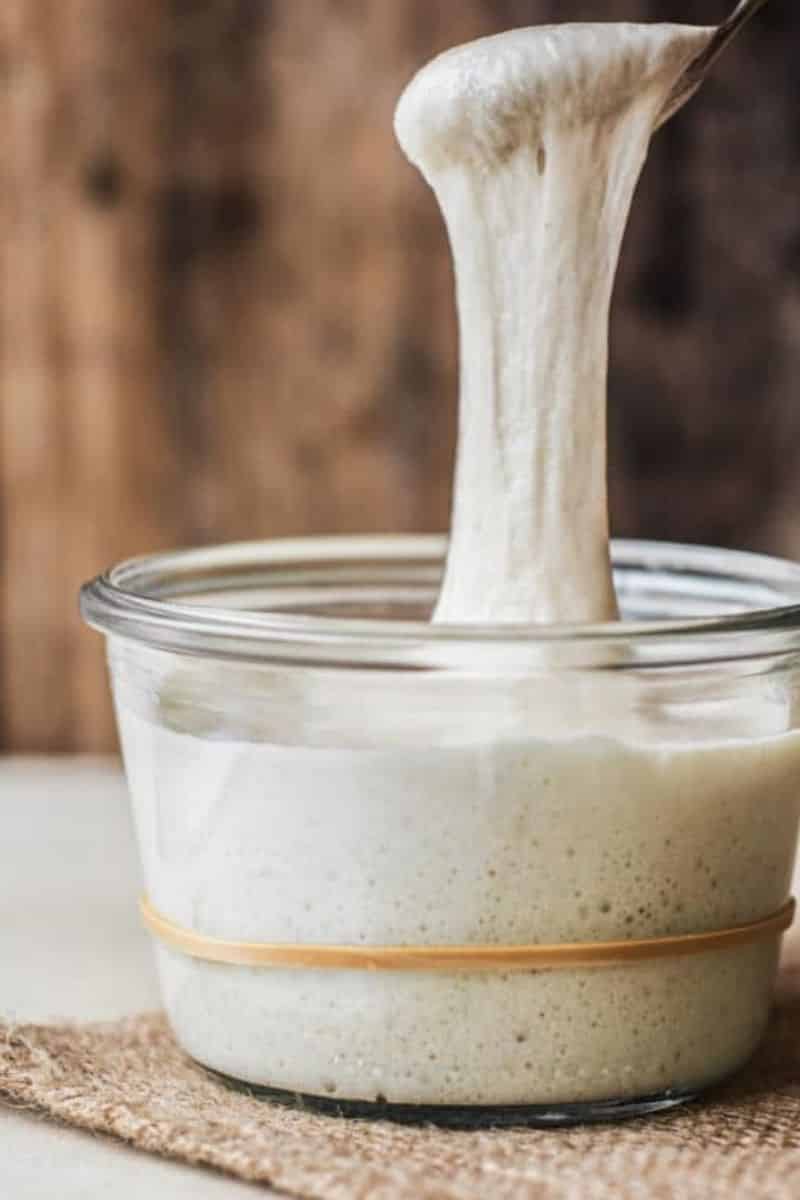 Sourdough starter hooch
A sourdough starter hooch is another name for the alcohol that forms on the starter. Once the yeast has run out of food, the alcohol (aka hooch) accumulates on top. Sometimes the color can be really dark grey or even purple depending on how long the starter has been deprived of food.
Pour off the hooch when feeding your starter again. Feed it 1-2 times before using it to bake bread to ensure it's nice and active.
Sourdough starter smells like vinegar
The smell of vinegar comes from the bacteria component of the sourdough starter. The lactobacillus bacteria produce lactic and acetic acid.
The acid produced will depend on the temperature.
At high temperatures, they produce lactic acid. Lactic acid has a mild sour taste.
At lower temperatures, the bacteria produce acetic acid. This has more of a vinegar-like tang.
It's normal for the sourdough starter to smell a little acidic. However, if it's a very strong vinegar smell, your starter needs refreshing. Excess acid can make dough difficult to work with.
To control the acid build-up in a starter, use only small amounts of seed starter when feeding. The seed starter is the amount of starter you will feed fresh flour and water.
A ratio of 1:2:2 or 1:3:3 (starter:flour:water) uses less seed starter than a ratio of 1:1:1. Avoid using more seed starter than fresh flour or water. Refreshing your starter often will help control acid buildup.
Sourdough starter gone bad
A sourdough starter gone bad is rare. However, sometimes it happens. If you see mold growing on your starter or it develops a pink, red, or orange tinge, discard it and start again.
Keep up with regular discarding and feeding, in a clean vessel each time. Then your lactobacillus colony will thrive. As they do, the acid they produce will inhibit mold growth and harmful bacteria.
Sourdough starter consistency
The consistency of a sourdough start depends on how you feed it and at what stage of fermentation it is.
A sourdough starter at 100% hydration
When first fed the texture is like a thick cake batter. As it rises it becomes light and airy. Once it has passed its peak and collapsed the sourdough starter will be runny. This is due to the acid and alcohol that have accumulated once the yeast runs out of food.
A stiff starter
A stiff sourdough starter has less water added to it. Usually, it's half the amount of water to flour. For example, a ratio of 1:2:1 (starter:flour:water). Eg, 20g starter, 40g flour, and 20g water. This makes a stiff dough ball that is kneaded together to combine.
Stiffer starters are slower to rise than those with higher hydration. They undertake a slow but steady growth, with less risk of peaking too early. They are great for enriched doughs like sourdough babka.
Sourdough starter storage
A starter can be stored at room temperature or in the refrigerator.
Room temperature
When storing it at room temperature, refresh it very regularly. At the 1:1:1 ratio, refresh it 3-4 times every 24 hours. At 1:2:2 or 1:3:3 it may only need one or two refreshes. Keep an eye on your own starter and see how it responds.
Fridge
It can also be refrigerated when it isn't being used. Feed the starter before placing it in the fridge. Either 1:1:1 if you plan to use it within the next day or two, or 1:2:2 if it will be longer (up to 10 days).
When you're ready to use it, take it out a day before you need it. Then feed it once or twice to get it active again.
Sourdough starter lid
Cover your starter with a loosely balanced lid, plastic wrap, or use a cloth. This will help to stop it from drying out and allow gases to escape.
Sometimes the top of a starter will dry out. Pull off the dried top and use what's underneath. This can happen in a really warm environment. You can avoid this by placing it in a humid spot to rise, or using a lid that can trap moisture, like compostable plastic wrap or a beeswax wrap.
A yogurt maker makes a great humid rising spot for a starter. Fill the yogurt maker with warm water and let the starter rise in there.
When refrigerating a starter you can use a sealed lid. The rise and accumulation of gas will be much slower when it's cold.
Can sourdough starter be frozen?
Sourdough starter can be frozen too, but only once it's properly mature. Some of the yeast won't survive the freezing process so there needs to be an established colony.
It can be frozen for up to a year. Once defrosted, give it regular feeds until it's rising well. This can take 4-7 days.
Happy baking!