Looking to make your very own sourdough starter? This guide will show you how to make and maintain one.
A sourdough starter is essentially a collection of wild yeast and bacteria that feed off a mixture of flour and water. Add flour and water daily to provide a fresh food source.
Initially when starting a starter, it's a gradual process of catching and nurturing these wild organisms and giving them food and the ideal environment to grow.
Later on, when the starter is ready to bake with, the yeast will be responsible for the rise of the bread as it releases carbon dioxide.
The bacteria in the starter, which is the lactobacillus strain, also release carbon dioxide, but not as much as the yeast. The bacteria is responsible for the sour tang in sourdough breads. This is due to the lactic and acetic acid they produce.
It is important to nurture and grow the yeast colony in the starter so it is strong enough to leaven your bread. This takes time, but it's crucial if you want a good result.
Ingredients
To create a starter you need flour and water. You can use an unbleached all-purpose flour for this process and save the nicer flours for the actual bread baking.
Rye flour is often used in starter creating as this can make the starter appear active faster. However, this is often due to extra bacterial action which may look bubbly and active but doesn't necessarily mean your starter is ready to go.
The bacteria grow much faster than the yeast. Because the bacteria also produce a little carbon dioxide, this can create bubbles in the starter very early on. However, these early bubbles do not indicate your starter is ready to bake with.
Tap water can be used to create the starter, though use filtered water if you think your water may hinder the starter process.
Ideal Environment
Yeast likes warmth in which to multiply, but not an excessive amount. Keep your starter in a space between 66.2°F and 72.2°F (19°C and 24°C).
If the environment is too cold, a starter can slow right down. In the same regard, if it is too hot whilst the starter is still being created it can also slow the starter.
Feeding a Starter at 100%
When feeding a starter at 100% hydration, this purely means you are feeding it equal parts flour and water in weight. It is important to measure the ingredients for a starter this way as equal volume isn't consistent. Water weighs much more than flour and your starter will become too liquid.
Creating a Sourdough Starter - Feeding Timeline
On day 1, combine equal parts of fresh flour and water in a bowl. How much you want to start off with is up to you. 30g of each is plenty, though you can reduce or increase this if you like. Just ensure you stay consistent during the process.
Starters can be both fast or slow to get going depending on so many variables. Using a consistent feeding schedule will help reduce at least one of those variables.
On day 1 and 2 of the starter creating, nothing is discarded. Flour and water are mixed together on day 1, and the same amount of flour and water are added and mixed in on day 2.
However, from then onwards, only a small amount of starter will be fed.
Why?
Because you want to nurture your yeast and bacteria with ample food. By keeping only a small amount of starter and feeding it, there will be plenty of food to feed those organisms. If you feed the entire starter each day, it starts compounding and soon you'll be going through an overwhelming amount of flour.
From day 3 onwards, the starter will be fed 24 hourly at a ratio of 1:1:1. This is easy to remember and you can slot in the gram amount that you like. If you are using the amount of 30g, this means you take 30g of the starter that was mixed on day 1&2 and feed it 30g flour and 30g water.
Mix it up in a bowl and pour it into a clean jar. Wrap a rubber band around the jar, marking where starter sits. This will clearly show if it rises.
Whatever is left can be discarded, though it won't be much. Alternatively this discard can be saved up in a separate jar and used in sourdough discard recipes. These are recipes that utilise the acid build up in the starter and pair it with baking soda to create a rise.
A starter can take at least 10 days to be fully active and ready to go, and in some cases much longer.
By day 4&5 you may see some bubbles, though you also may not. You may not notice the starter is quite runny when it's time to feed it again. This is due to the acid created by the bacteria.
If your starter is splitting and forming liquid on the top or the bottom, check that the environment in which you are keeping your starter isn't too warm. You may need to increase the feedings to 12 hourly if this keeps happening.
If by day 6&7 the starter is doubling within 6-8 hours of feeding, increase the 1:1:1 feedings to 12 hourly.
If the starter is doubling within 4-6 hours after increasing the feedings to 12 hourly, the ratio of feeding can be increased to 1:2:2. At this point, if it doubles within 6 hours at this higher ratio, the starter is ready to bake with.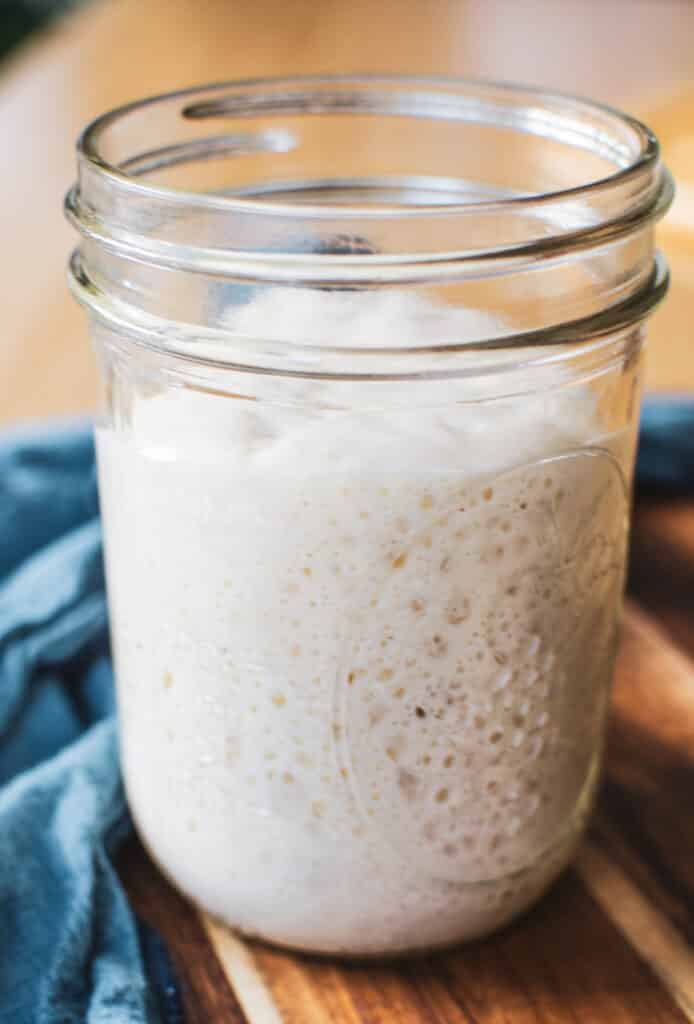 Maintaining the Starter
Looking after your starter is just as important as creating one. It's important to keep it refreshed often so there is not a build up of acid.
An overly acidic starter can ruin the gluten structure in sourdough bread, which can make it extremely hard to bake with.
To keep the acid content low, you can keep refreshing your starter 2-3 times a day at 1:1:1, or twice a day at 1:2:2. This may need to be increased if the environment is very warm.
Your starter will rise to its peak, after which it will collapse when the yeast has run out of food. Ensure you use your starter when it has at least doubled but before it passes this peak.
Once your starter is well established, it can refrigerated when it isn't being used. However, do feed it before placing it in the fridge. Either 1:1:1 if you plan to use it within the next day or two, or 1:2:2 if it will be longer.
The aim is always to keep the yeast active and happy and the acid content low.
Happy baking!